The U.S. is very confident it can protect American interests in the Indo-Pacific as the Chinese military surrounds Taiwan, the White House said Thursday.
National Security Council spokesperson John Kirby offered the assessment to reporters during a Monday briefing. China is conducting extensive and ongoing military drills around the self-governed island throughout the past week, going so far as to simulate strikes on the island this past weekend.
"How does the U.S. see these latest Chinese military exercises and is the U.S. confident that Taiwan and help from the U.S. could continue to deter China from a military solution?" a reporter asked. "Their saber-rattling as we call it was a lot more than sabers, and it's more than rattling."
"We're monitoring the exercises closely, as you might imagine," Kirby responded, adding that they were a needless reaction to Taiwanese President Tsai Ing-wen's recent visit to the U.S. that sparked angry warnings from China.
"We're very comfortable and confident that we have in place, in the region, sufficient resources and capabilities to protect our national security interests in the Indo-Pacific," he continued. "I would add … there's no reason for tensions across the Taiwan Strait to devolve into any kind of conflict."
In total, the Chinese military deployed 71 aircraft and nine naval vessels around Taiwan as of Sunday.
The move comes in reaction to Tsai's trip to the U.S. and her meeting with House Speaker Kevin McCarthy last week. The trip was Tsai's seventh transit of the U.S., and the second time she had met with a U.S. House speaker. Nevertheless, China made threats and warnings ahead of the visit.
Kirby emphasized that China was overreacting to the incident and highlighted Tsai's past trips to the U.S. and meetings with U.S. lawmakers.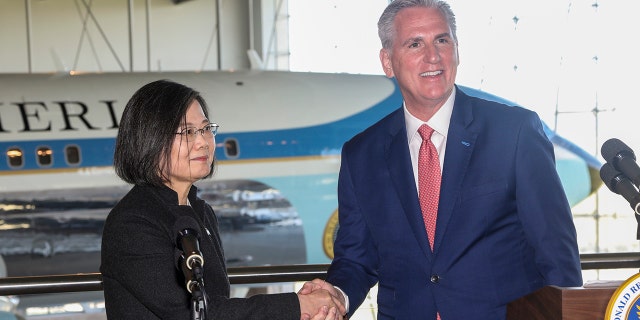 House Speaker Kevin McCarthy met with Taiwanese President Tsai Ing-wen last week despite warnings and threats from China.