The Russian parliament has approved legislation to start serving call-up papers online. The Kremlin has denied the move is aimed at speeding up further mobilisation of Russian men or putting a stop to widespread draft-dodging.
Thousands of Russians have avoided the draft to escape the war in Ukraine.
Critics say the law is further evidence of authorities creating an "electronic Gulag", referring to the Soviet-era network of prison camps.
Until now, conscription papers in Russia have had to be served in person or via an employer.
In reality, it has meant many avoiding the draft by moving away from where they were registered to live, or simply not opening the door when military officials came calling.
Under the new legislation, call-up papers will be deemed to be served as soon as they appear on a special "State Services" government portal called "Gosuslugi".
"The summons is considered received from the moment it is placed in the personal account of a person liable for military service," Andrei Kartapolov, chairman of the Russian parliament's defence committee, said on TV.
From that moment, a conscript will be obliged to turn up at his local enlistment office.
Citizens who fail to show up will be banned from travelling abroad and could face other restrictions. They will not be able to buy or sell property, their driving licences will be invalidated and they will be unable to register small businesses.
Of the 395 Russian MPs who voted on the legislation, 394 supported it and one abstained. Russia's lower house or State Duma has 450 MPs.
The new legislation will come into effect when it is signed by President Vladimir Putin, which is likely to happen soon.
Last September, the Kremlin began a chaotic emergency mobilisation campaign to support Russia's "special military operation" in Ukraine, amid a series of humiliating defeats after its full-scale invasion.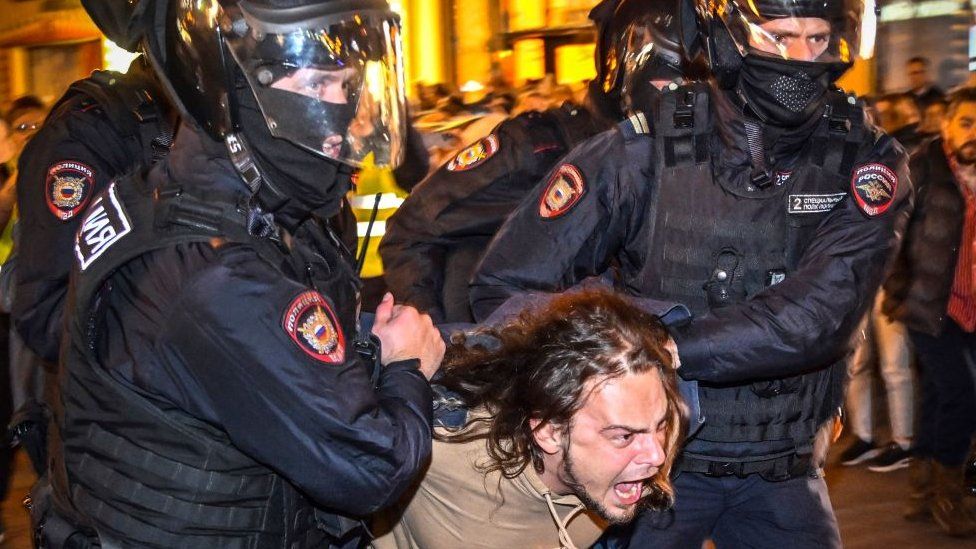 More than 300,000 former soldiers and ex-conscripts are believed to have been called up, in a drive that often saw young men being picked up on the street or in shopping malls.
Thousands of men aged 18 to 27 fled abroad to avoid the draft and protests broke out in numerous Russian cities, although they were swiftly suppressed.
According to leaked US documents, Russia is estimated to have suffered between 189,500 and 223,000 casualties. Those numbers include 35,500-43,000 men killed in action and another 154,000-180,000 wounded.
BBC News Russian has compiled a list of 17,000 Russian servicemen who are confirmed dead, through gathering information from open sources, with names, ranks and in many cases, the military units they served in.
The last time Russian authorities revealed casualties figures was in September last year, when they confirmed the deaths of 5,937 servicemen.
"A once convenient online government portal turned out to have a flip side," tweeted Ilia Krasilshchik, who founded the Helpdesk website, which offers advice and assistance to Russian men trying to avoid being sent to fight in Ukraine.
"In an instant, you can be marked out and your exit from the country can be shut off. That's it. Who needs new waves of mobilisation? Take people out one by one in an attractive interface of a digital state."
The State Services government web portal is widely used by Russians to apply for a new passport or a marriage licence, pay bills and fines or make an appointment with a GP.
But Mr Krasilshchik warned that the state had turned it into a site to provide the Russian state with cannon fodder for Ukrainian guns.
President Putin's press secretary, Dmitry Peskov, denied the new legislation was linked to an attempt to widen mobilisation: "This is simply to improve military records. The system has to match modern requirements."